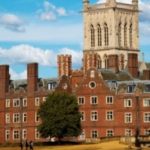 Summertime is here and school is out! Now that finals are finally over, it's time to relax in the sun and enjoy the time off. But don't get too comfy. Before you know it, college will be just around the corner. It is never too soon to prepare for your next college adventure. Whether you're moving to a new apartment off campus or a freshman discovering dorm life, the move to college requires a lot of planning and preparation.
The process of packing for college can become supremely overwhelming and cause a great deal of stress for students and parents alike. Attempting to move an entire setting to a new location can be daunting and full of some serious struggles. But do not fear too much! Here are some great ideas and solutions to make the transition to college smoother.
It's good to have help when moving such large pieces from your home to a new dorm or apartment. Reduce the stress of having to move heavy pieces of furniture and consider investing in pick up and delivery services. It provides a sure fire way to protect your home pieces and ensure that they are taken care of. Placed in the right professional hands, moving will become an instant breeze (allowing you to place your time and energy elsewhere and accomplish more during the move in process).
Consider hiring a professional company in NYC that also specializes in sofa and furniture disassembly. Many times, furniture does not come in a one-size fits all. Often, sofas and home items can be cumbersome in the moving process. It may be hard to fit large pieces through certain spaces and your furniture may require extra attention and effort to get where it needs to go. This can cause an extra amount of unnecessary stress during the moving process. Trust a serious professional with this task instead of placing all the worry on yourself. With tons of experience, a company could easily lend a hand and get things done faster and provide a safe and comfortable travel for your important belongings.
Once your college room is settled, it's time to take a look at the importance of protecting the fabric. Ensure that your new couch or furniture lasts you through your college years by enlisting a professional to clean and protect your beautiful pieces. You've spent a lot of time and money on these items, so don't let that go to waste! By protecting the fabric early, your furniture will have long lasting coverage from accidental spills and unwanted dirt from your travels on campus (it also allows spot cleaning to become more effective).
Moving to college can be an extremely stressful process, but it doesn't have to be. Reduce your stress and throw your worries out the window. Enlist the help of some great professionals with various services that will make the process of moving various pieces of furniture from the home to the campus safer and easier. Trust us, you won't regret it.