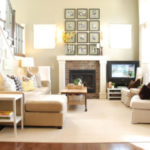 If you live in a small NYC apartment, decorating your space can be tricky. When you have such a small area to decorate, it can feel like you're constantly making sacrifices for your space. There is a way to decorate your entire living room so that it feels cozy and stylish and makes the room appear bigger. Follow these four suggestions to achieve a put-together, attractive living area that will inspire you.
Size down
When you have a very small corner for a living room, you can only fit so many pieces. If you want a couch and a love seat, for example, you'll likely not have room for anything else, and the space will appear cramped. Rather than springing for both, consider one or the other. If you want to create a cozy living area that is perfect for lounging and watching television or reading, consider a small sectional. It allows for more seating than a regular sofa, and it looks comfortable and stylish on its own. If you prefer more seating options, consider springing for a love seat or an "apartment sofa" (a scaled down three-cushion sofa) and a few chairs.
Distract from your small space
Use the other furniture in your room to distract the eye from the cramped space. If you don't have enough space for a coffee table, consider getting two identical end tables to serve there instead. Because it is unusual, people are more likely to notice the end tables and not the small room area.
Measure, measure, measure
Before you shop for your furniture, measure your space. You need to the exact dimensions of your room before committing to a sofa or end table. Even furniture stores with free pick up and delivery services won't be able to deliver the sofa of your dreams if they simply can't get it into your apartment. You should be absolutely certain that your furniture can fit, either in one piece or disassembled, and you should choose pieces that are smaller than the maximum size of your space.
Keep the entire space cohesive
Chances are, if you have a small living room, it's likely connected to your kitchen and dining room. If this is true, make sure that your entire area is decorated in a way that doesn't conflict. Use like colors and patterns to carry the eye through the entire room. That way, your living space will appear larger because it will look like it extends through to the kitchen.
As we suggested, even if you're hiring couch movers in NYC, make sure you know the dimensions of your space before you shop. Have a plan before you walk into the store so that you don't get distracted when you're there. Consider creating a diagram or a quick sketch so that the salesperson can assist you with finding what you're looking for. Finally, remember: don't be afraid to get creative with your small living space, and have fun!