Are you moving into a small space and are concerned about how you'll decorate? If so, you're in luck, as there are a variety of great ideas out there for furniture design in small spaces. Even if you have a small room, you can still have it beautifully decorated to show off our unique style.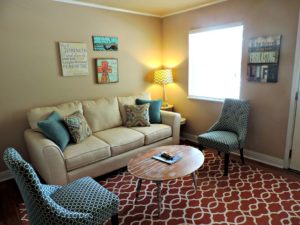 Use Neutral Colors
Choosing furnishings that are neutral or light in color is one of the best ways to make a small room appear larger. A neutral palette will push back the walls, allowing the eye to roam more freely. When choosing a neutral-colored sofa, arm chairs, and ottoman, you'll make your space feel more expansive.
Plan Multipurpose Spaces Wisely
In some cases, a multipurpose space in your home might be unavoidable. For example, your guest bedroom and home office could inhabit the same room. To make the best of the situation, use the walls to your advantage. You may be able to build a simple desk unit into the wall and add shelving above it for extra storage. A stylish Murphy bed is also a great addition, as it can be hidden away when not needed, but will be easily accessible when guests arrive.
Find Creative Storage Solutions
In order to keep your small space organized, choose innovative storage solutions. For example, some people choose to use the awkward space found underneath a staircase to build shelving for added storage. Baskets for storage that are placed under furniture items like a coffee table can also be a good addition to a small room.
Select Furniture Pieces that Are Multifunctional
In a small living room, it is important that every piece of furniture that you add is earning its keep. Consider purchasing an ottoman that could also work as extra seating or a coffee table. Nesting side tables could also be rearranged when guests arrive, and versatile stools can serve as extra tables or even seats. Consider pieces that will have more than one use when you are doing your shopping.
Choose Small Scale Furniture
Instead of running out and getting a new sofa when you're moving to a new apartment, avoid bulky pieces and choose furniture items of a smaller scale. An antique shop is a great place to find smaller furniture pieces, or you can choose to refurbish items that you already own. Smaller chairs, love seats, and end tables can be great additions to a compact room and can also save you money when you consider the cost of a larger item.
Redesign Your Furniture
If you have a large piece of furniture like a sectional that just won't fit into your new, smaller space, your best option may be to have the piece redesigned. Dr. Sofa specializes in furniture disassembly and reassembly, and we can remove a section and put your piece back together so that it will fit into your small room. Likewise, there are a variety of pool table sizes in New York, so you may be able to find a smaller version that can fit perfectly into your new space.