Clothing style is not the only thing to change over the years. Furniture has undergone its share of changes and adaptations, frequently reflecting the social setting of the time. If you have an antique piece you may find it interesting to peruse this furniture style timeline and try to place the period in which your item was crafted.
Headboards
Cabinets, chairs, tables, bookcases, and the like are not the only items of furniture that have changed in style over the years. If you have an antique headboard you may find that its style is markedly different from what you might find in the furniture stores today. Depending on when it was fashioned it may be valuable and worth preserving.
The ancient Greeks used headboards to stop drafts. For them, the bedroom was actually an entertaining area of the home and they would often host meals or entertain guests there.
During the Middle Ages canopy-style beds were popular. The canopy served a functional approach, as bedchambers could be quite cold and having a heavy curtain enclosing the bed itself did serve to provide some additional warmth while keeping out drafts. Because of the intricate design of the canopy bed, in many cases, it was the most expensive piece of furniture in the home.
Later on, stuffed headboards became popular. Leather was a common choice for the upholstery covering, although some fabrics were used. If the wrong material was chosen the headboard would quickly become damaged or stained from the oils coming off the heads of the bed's occupants.
After stuffed headboards, iron headboards became commonplace. Some were simple affairs, purely created for their functionality, while others were intricately scrolled with numerous aesthetic touches. The iron headboards were originally made by hand and a headboard from the 19th century can be very valuable. During World War I, the material for the headboards was redirected to forge weapons. After the war was over, the manufacture of iron headboards was performed on the assembly line and so the headboards lost their handmade feel.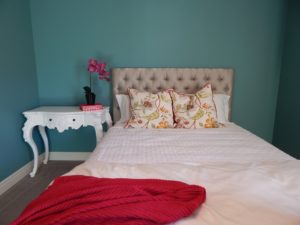 Reupholstering Old Headboards
If you have an old headboard that is beginning to show signs of age, you might consider reupholstering it. Doing so can preserve the antique feel by removing and replacing damaged upholstery. Here at Dr. Sofa we can help you with your headboard reupholstery project. We have professionals on staff with years of experience in helping you choose the best material to fit the décor of your home.
Reupholstering a headboard costs less than purchasing a new one. Further, many of the antique styles might be harder to locate in today's furniture market, and reupholstering your antique headboard is a good way to keep in item you may have become attached to or around which you may have designed the fashion in your bedroom.
Give us a call (or an email!) today and let us help you keep your headboard looking good, while preserving the aesthetic of the period in which it was fashioned.