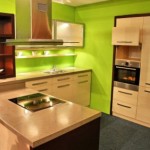 Just because you have a small space, doesn't mean it can't be quite cozy!
Whether you're decorating a small apartment or just a small corner of your home, the same principles apply. Decorating a small space depends largely on the right furniture. Too-large furniture can overwhelm a room. Too-small furniture is inconvenient and can emphasize the size of the room. Follow these tips to make sure that your small apartment is furnished in the most comfortable way possible.
Get the Right SofaIf you have a very small space designated for your living room, consider getting a loveseat or a small apartment sofa rather than a full-sized sofa. Limit the number of decorative pillows you use in the living room to allow for more usable space. In addition to your loveseat, consider an over-sized plush chair or a decorative accent chair.
Your Kitchen Counter as a Bar
Rather than getting a dining room table, consider buying a few bar stools and using your counter as an eating area instead. Most kitchen tables cost a fortune, and small apartments rarely leave room for a dining room space. If yours has extra room, consider using it as an office instead.
Be Cautious of Painting
Small spaces can seem even smaller when they're painted the wrong color. Very dark rooms appear smaller, even if they're very large and bright colors are distracting and overwhelming. Instead, consider painting the entire room white or a soft pastel color. If you want to bring wallpaper into your design, just cover an accent wall. That way you'll save money on the paper and you won't overwhelm your room with a color or pattern. It will seem like a stylish design choice.
Splurge on Nice Furniture
In a small apartment, you don't have as much furniture to buy, and the furniture you do have makes a bigger impact as a result. Splurge on nicer pieces in rooms with heavy traffic. The focus will be more on your expensive furniture, and less on your small apartment. If you do splurge, consider fabric protection for furniture. It helps to keep your pieces looking nice, year after year.
Measure Your Space First
This is hugely important in any apartment, but especially in a very small one. Know how much space you really have to work with. Plan the entire room using precise measurements so you don't wind up with furniture that is way too big to fit.
If you live in a small apartment, you will likely need furniture delivery and assembly. Many furniture stores in NYC do sofa disassembly and delivery when you buy for a small upcharge. If you've ever attempted to cram an entire apartment's worth of furniture through a small NYC front door, you know it's worth the money to get it delivered.
If you follow these simple rules for small-space design, you can't go wrong. Just remember to choose muted, more neutral colors in your designs, and know exactly how much space you're dealing with so you can properly maximize it.