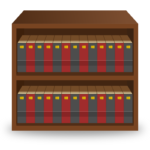 While trendy electronic books can be convenient for making a large book collection portable, they do not offer the same tactile experience as an actual book. There's something truly special about holding a bound book, and physically turning each page. If you consider yourself an avid reader and are extremely proud of your book collection, you deserve to have it arranged in a manner that allows you to appreciate and share it The best way to create the perfect area for your books is with a personal library. If you've been dreaming about a home library design but are hesitant to make it a reality, you'll be happy to learn that it's not as difficult as most people expect. The key is knowing the right way to go about the process:
It Starts with a Room: While you could build a new room, if you have any space that's currently unused, you can turn it into a great library. Keep in mind that you'll want to be able to control the sunlight and moisture in the room. This means that if you're considering a basement, be sure to ensure that mold or moisture won't damage your collection.
Showcasing Your Collection: A custom wall unit is the best way to show off your books in a safe and attractive manner. When designing a wall unit from scratch, you have a unique chance allowing the furniture of your library to directly reflect the content of your literature. If you're a fan of more serious nonfiction works, a straight forward decoration would make the most sense. However, if fantasy is more your taste, allow for the wall unit that displays your books to be a bit whimsical, or even medieval. You can also consider complementing your collection with something like wall upholstery. When it comes to actually organizing the books, the specific order is solely up to you. Some people like to organize by title, while others prefer by subject, or even chronologically based on their purchases.
The Right Furnishings: While there are plenty of public libraries that no one would describe as cozy or comfortable, since this is your personal space, you want it to feel relaxing. On the other hand, there may be times when you want to use your library for serious research or related work. Thus, in addition to a comfy chair or couch, you'll probably also want a desk in this space. If you already have a favorite chair that's not in the best shape, you can restore it to its former glory by enlisting the help of a chair repair professional. Also, depending on your specific taste you may find that additional furnishings like custom dressers can be a great fit.
Can Always Evolve: One reason that some people are hesitant to undertake this project is because they think they have to get it exactly right the first time. As a result, they put too much pressure on themselves, and they never end up doing anything. The reality of a home library is that there are plenty aspects of this space that can evolve and develop over time. For example, in terms of accessories and accents, you can relax – by leaving some space unaccounted for, you have the freedom to fill it with any unique decorative items you may come across.