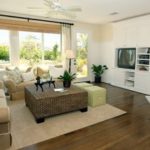 Choose convenient homes that you can move about with ease.
The baby boomer generation is headed into retirement. That means that an estimated 76 million people with serious purchasing power will be seeking new homes to retire in after they leave their working years behind. Those senior citizens are placing their demands, and home designers are listening up! Senior citizens have more influence in modern home design than ever before.
According to an infographic from My Silver Age there are five major changes that seniors are contributing to modern home design. From bathrooms to bedrooms to kitchens and more, senior citizens have as much or more influence on home design than young people. Specifically, these five major areas are changing in new-construction homes. They are as follows:
Kitchens with Easy Access
Universal kitchens that reduce the need to bend or reach are commonplace in new-construction homes. Some of the main features of these homes include larger knobs, oven ranges with controls at the front, varied counter heights, lever-handle faucets and drawer-style appliances, like dishwashers.
Wide Open Spaces
Open floor plans have fewer hallways and doorways, which makes it much easier to move around. In place of closets and additional rooms, modern homes generally have built-ins like a custom made wall unit that can be used to store your items or display them.
Improved Lighting
The better a home's lighting, the less likely someone will trip and fall in the dark while on the hunt for a poorly-placed outlet. The recommended height for light switches in modern homes is between 44 and 48 inches.
First-Floor Master Bedrooms
First-floor bedrooms are a great compromise for designers and senior citizens. This way, designers can avoid ranch-style homes with only one level, and seniors who struggle with stairs can use them less frequently.
Safer Bathrooms
New bathrooms with handheld showerheads, benches, easy access bathtubs, non-slip flooring or roll-in bathtub entry are in high demand.
All of these features are tough to fit into an older style home. But if you're selling your home you can stage it to appeal to senior citizens whenever possible. In order to stage a master bedroom downstairs, throw a full-sized bed in there and reupholster a couch for added effect.
Make sure all the items in your home are up-to-date, including your furniture. If necessary, seek out a company that does leather chair repairs in order to best stage your living room for viewers. Keep the walls and decoration simple. A dark room looks smaller, and a bright color is intimidating. Even something as simple as wall color can have a major effect on how quickly you sell your home.
On the flip side, if you're in the market for a newly constructed home with these features, it shouldn't be difficult to find a home that meets these requirements. If you have the money to customize, you can remodel an older home with these new features. Otherwise if you're buying a new construction home, you're likely to get one with these brand new features inside.