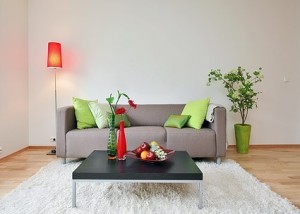 If you were born between 1980-1999, you are considered a Millennial. The generation immediately following Generation X, Millennials are known for living at home with their parents well into their 20's, and in some cases, even 30's. Whether you're a member of this generation or not, if the idea of staying at home with your parents for one more second sounds like madness to you, you aren't alone. A closer look at some of the most common reasons people leave home reveals that there are a wide variety of reasons to strike out on your own. Want to move in with a significant other? Need to be closer to work? Tired of sleeping in the same room you slept in as a kid?
Whether your parents kicked you out of your old childhood bedroom or you're moving out on your own accord, there are a ton of benefits to living independently (and a few downsides, ahem… grocery shopping). Perks of independence you have to look forward to include:
Choose Your Furniture
Want that pool table in the living room you've dreamed of your whole life? Go for it! Pool table disassembly can get it through your apartment door and smack dab into the middle of your apartment if it's what you really want. After all, you're calling the shots now.
Want blow-up furniture and bean bag chairs instead of an actual couch? Cool. Want a fridge for beer and a budget for delivery pizza? Go for it. (At least until your metabolism catches up to you.)
Clean & Organize As Much As You Like
Are you a neat and tidy person who's lived all your life with less-than-organized parents? Now is your chance to have the immaculate apartment of your dreams. Maybe the flip side is true and you prefer the messier things in life. Living on your own means that you can discover for yourself just how much a clean and tidy living room means to you.
If you'd rather invest in furniture disassembly to clear a path through your living room than pick up the trash on the floor you are free to do so. No matter how horrified your mother will be when she sees the mess.
Own Your Schedule
Rather than giving you the freedom to be messy and irresponsible, what living on your own really offers is the opportunity to become responsible for yourself. Yeah, it's fun to leave the trash on the floor, but then you'll have ants. Yes, you'd rather sleep in, but you have to get to work. Being independent means being entirely responsible for your actions – a truly freeing experience!
If we've convinced you, feel free to call the sofa delivery experts and sign your lease right now! We promise, you won't regret striking out on your own and taking responsibility for yourself and your budget. You'll learn about yourself and what it truly means to be an adult – including the fun parts and the not-so-fun parts.