The growing popularity of the oversized sofa invasion has driven homeowners to tears. But this does not stop designers from creating huge sofas for stores and clients. With the great demand for these couches comes great frustrations that need solutions. It is a very stressful experience to realize that a couch won't fit through the doorway at the last minute. "I get calls at all hours of the night…Usually there are tears involved" said Shlomi Gal-On also known as Dr. Sofa, in an interview with the New York Times. "One woman called me crying because her couch didn't fit through the front door of her building," he said. "When I got to her place it was dark out and she was sitting on the sofa in the middle of the sidewalk, weeping hysterically. She jumped up and threw her arms around me and started shouting, 'The messiah has come!' We definitely got some interesting looks from people passing by."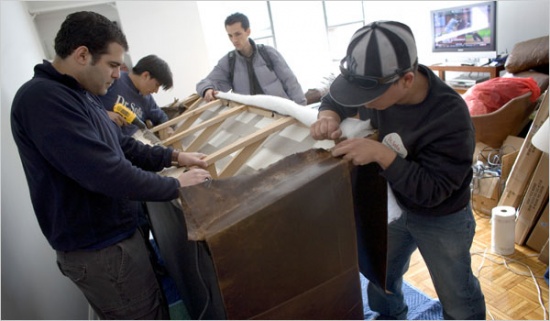 Disassembly Service to the Rescue
In the past decades, the number of desperate calls for help on moving large furniture pieces grew considerably. In New York, the sofa disassembly service began as a trade during the late 70s, catering to a growing number of clientele. Noticeably, major furniture dealers and designers are offering sofas that are 94 inches or more in length and 43 inches or more in depth, as compared with typical 86 and 36 inches maximums a decade ago. As American houses expanded, the furniture makers followed the trend as well.
Decorators get more requests for oversized furniture. Now, they no longer worry about large sizes and moving problems. They know they can always count on reliable furniture disassembly services to take care of that aspect. "The service has 'saved me a lot of sales lately,'" he said. "I tell them: 'Don't worry about size. If you want it, I know a guy who can get it in' ." Victor DiBlase, who owns Victor's Sample Room, a furniture outlet at the New York Design Center emphasized this.
No Limits
This meticulous task of disassembling and reassembling a furniture piece may look easy in the hands of experts. However, anxiety cannot be avoided especially when dealing with antique furniture and delicate upholstery. Knowing these factores, New York City dwellers still risk buying large furniture and having these taken apart. If just to follow their aesthetic plan for their home interiors, so be it!
"Even some of the city's most luxurious apartments have tiny elevators and door frames," Mr. Gal-On of Dr. Sofa said. He recalls an experience with his client, Jeff Gordon, the racecar driver, who has contacted his company on two occasions to fit two different couches through his oddly shaped entryway. "I told him not to worry because tight turns are how I earn my money," Mr. Gal-On said. "He just laughed and said, 'That's the same way I earn mine.' "
Clearly now, the size of a furniture no longer limits the design ideas of furniture makers. The furniture disassembly and reassembly services opened up so many decorating possibilities.