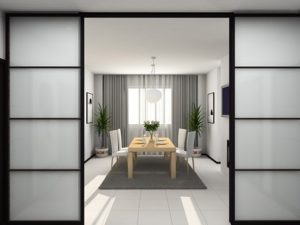 One of the toughest and most dreaded aspects of moving is the prospect of moving big, heavy, clumsy pieces of furniture — furniture that requires plenty of padding and a small team of strong men. The stakes are even higher if the furniture in question is your grandmother's exquisite Chippendale dining room set. When it comes to an irreplaceable antique, an object with sentimental value, there simply is no room for error. A deep dent or a long, heavy scratch to a family heirloom – unthinkable! If you want to pack and move that dining room set yourself, and safely, you need a plan.
Prepare
The first thing you need to do is to decide whether you will move your items yourself, or whether you will have it done. If you choose a mover, now is the time to compare services, rates and terms. If you plan to move yourself, you should start to measure all openings through which your furniture will have to pass, both in your current home, and in your new home. This includes all stairways and elevators as well; and don't forget to take narrow hall corners into account. Clean and wax your dining room set and gather any loose or misplaced parts, such as screws, bolts, or table leaves. Gather the quilts, blankets or moving pads you'll need to protect all the separate pieces in your set, as well as plenty of bubble wrap, newspaper, small boxes and packing tape.
Pack your furniture.
Once you've gathered your packing materials, you can start to disassemble furniture. Unscrew all the parts of the table and chairs that can be removed to make the pieces lighter to carry. Be sure to save all the small parts. Once the pieces are reduced to the smallest possible shapes, wrap them in blankets or moving pads to ensure that only soft materials touch the wood. Be sure that all surfaces of the furniture are covered, and that the blanket or pad is secure. Then wrap the blanketed piece in a thick layer of bubble wrap and secure with wrapping tape. Unpacking will be faster and easier if you label or color code each piece. For larger pieces, leave the furniture disassembly to the professionals rather than risking damaging an expensive piece.
Move your furniture.
If you choose to move yourself, your first concern is safety. Be sure that you and your helpers, whether friends or family, wear safety belts to protect your back while lifting heavy pieces, and that no one tries to lift a heavy object alone. If you choose to have this done by a mover, this step should be easy and quick. Dr. Sofa has a team of professional furniture movers in NYC who are experienced in moving all types of furniture.
The plus side to hiring a professional is that they do it every day; unlike your friends, they're insured (check); and you avoid the risk that lifting heavy crates will injure you or your family in the move. It also frees you up to concentrate on moving your family, instead of your furniture. Whatever route you choose, remember to be organized and safe. Good luck with your new home!