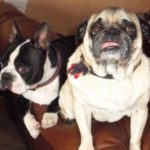 Pets are our best friends, but they have no such loyalty to our furniture.
Our family pets are not always friendly to our furniture. If you have a pet (or two or three), then most likely you've experienced some degree of furniture damage. Pet body oils, dander, and the occasional accidents can, over time, be absorbed into the fabric or leather of your sofas or chairs requiring regular cleaning. These types of stains and odor frequently require the services of a professional.
New leather can smell particularly enticing to a dog. Animal urine is acidic and can be difficult to remove on your own. If left untreated it can draw a pet back to the same area again and again. Another problem associated with pets and furniture is that dogs and cats can frequently use our furniture to sharpen claws and as a giant chew toy.
To ensure the durability of your upholstery or leather, when purchasing a new couch, settee, or chair it's always a good idea to immediately protect the fabric, especially when you have pets. Many manufacturers treat the fabric before the item leaves the warehouse. This will greatly reduce any stains on the fabric. It also makes spot cleaning more effective, preventing the dirt or spill from soaking in. The fabric protection offered in spray cans in the supermarket does not provide a long lasting solution to the problem. If you need to add fabric protection after a purchase, have a professional perform this service.
Another option to protect the fabric of a sofa or chair is to use slipcovers. Slipcovers can be washable depending on the fabric used. Some slipcovers can be unattractive, draped loosely over the furniture, or be too tightly stretched over the piece. To ensure you are getting a quality slipcover that fits your furniture correctly, consider custom made slipcovers over pre-made ones. Not only will the slipcover fit better, but you can pick the fabric to match the rest of your décor.
If your beloved pet has used your furniture as a scratching post or chew toy, it is possible to repair the piece back to the condition it was when first purchased. A professional can repair just about any damage your pet has caused. From settee repairs, involving re-stuffing and reupholstering to repairing chewed furniture legs, these experts are up to the task.
For damage done to leather pieces, a leather seat repair shop will have the expertise required for this type of restoration. Small areas of damage to leather can be patched up and matched to the rest of the piece so they are not even noticeable. Of course, for more extensive damage, total recovering will bring you the results you desire.
Did you know you can use the internet to find experts in furniture repair in your area? For instance, if you live in New York, you can Google "fabric protection New York" or "custom slipcovers NYC" for a list of professionals in your area. Go ahead and try it. You may be surprised at the results.
Having pets living in our homes is wonderful. We love them. They are members of the family. When stains or destructive pet behavior damages your furniture, don't replace the item or banish Fido to the doghouse–repair it. Your furniture can be restored to its former beauty.