If your leather couch has seen better days and you are considering throwing it out take a moment and consider your options first. Rather than spending all the time going to furniture stores and poring over endless selections online to try to find the style of couch that fits you, why not try to recolor your leather and keep the couch you already know works? Because recoloring the leather costs less than purchasing an entire new couch this can be a money saving option as well.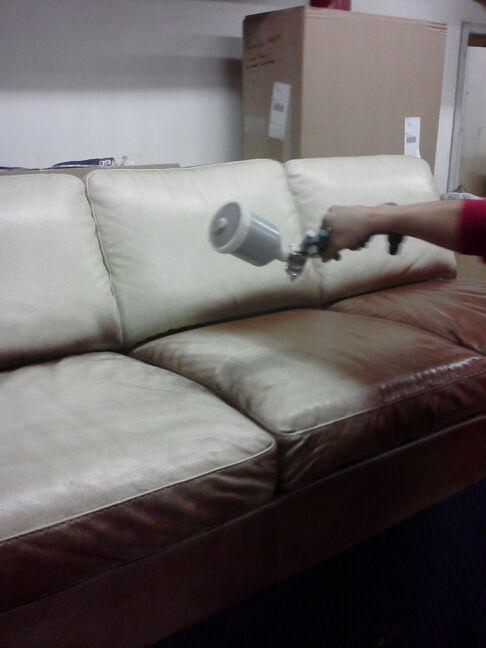 Save Time by Recoloring Your Couch
If you've kept your current couch long enough for the leather to begin to wear then you probably like its style: the way it's built, the way it feels, even its shape and size. Finding a new couch that fits all your criteria can be time consuming and tiring. If you are already happy with what you have you can save yourself the time and frustration of getting an entirely new couch.
Leather coloration can be used to cover defects and give you a dramatic change in appearance without changing the couch itself. Whether you're looking to cover old stains or repairs, or you're just interested in a new appearance, recoloring the leather is a relatively hassle-free option for achieving the look you desire.
While the exact time commitment will of course vary depending on factors such as the size and shape of your couch, the type of leather you're coloring, the color you are switching to (and from), and the overall condition of your couch, chances are the time you spend recoloring your couch will be significantly less than the time you would spend browsing the furniture stores, talking to sales clerks, perusing catalogs and webpages, and trying to envision how an entirely new couch will fit in your current living space.
Save Money by Recoloring Your Couch
Purchasing brand new furniture can be expensive. If you're on a budget it may not even be an option. Further, if your couch is still structurally sound, it might be unnecessary to lay out the funds for a brand new piece when recoloring the leather would accomplish you purposes just as well.
Stop hiding your couch under coverings. A beautiful couch can be the focal point of a room's décor and makes for a good conversation piece. There are many leather recoloration services available for the cost-conscious consumer. Take some time to explore your options and see just how much money you could save by recoloring your leather. It may be cheaper than you think, and you'll be amazed at how beautiful your couch looks!
Here at Dr. Sofa we are always ready to assist you in obtaining the look you desire on a budget you can afford. Our experts are able to knowledgably discuss the various options when it comes to recoloring leather and we are happy to help. Give us a call today to see how much time and money you could save by recoloring your couch.