If you have the duty to dispose of an elderly relative's furniture, or if your grandmother gave you her favorite chair (that has seen better days), the temptation is to just throw the furniture out. But don't. Often, an old or damaged piece of furniture can be transformed with a simple cleaning and repair. And a reupholstery job can sometimes be nothing short of magic. A Shaker chair with a missing slat can be easily fixed, and the piece would fit seamlessly into Early American, retro, country, western and even modern decors. A moth-eaten Victorian couch can come back as Boho chic with a bold floral pattern upholstery. Repairing and reupholstering a piece often costs less than buying a brand new piece. Antique furniture is almost always more interesting than mass produced alternatives — and the antique might even turn out to be valuable!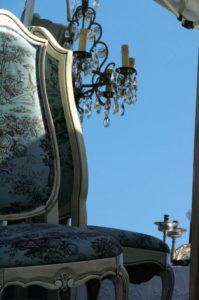 It's sad to see a handmade or antique piece with damage. After all, antique furniture pieces are not just objects, they are pieces of history – often, family history. But many kinds of damage can be repaired by a furniture pro. If for example, you have an antique leather couch that has been ripped or stained, couch reupholstery can bring it back to life. And unlike a purchase of mass-produced furniture, you can order exactly the look you want, rather than simply having to make do what happens to be available. You can have a furniture pro reupholster an antique couch to look exactly as it did, or you can order a modern update – red leather, new arms and legs, even a new back. A professional reupholstery job, such as those available through Dr. Sofa, can revitalize leather furniture.
If you've been bequeathed a wooden antique with only slight signs of wear, wood furniture tips such as rubbing a scratch with a nut meat (it will blend in color)or wiping a white water ring with mayonnaise (it will often erase the ring) can restore a piece without further interventions. But even the most dingy or outdated wooden furniture isn't beyond a makeover. If you've come into possession of a wood piece, and, like many older pieces, it has significant signs of wear or damage, a furniture pro can often repair or restore it to look like new. Outdated scrolls or carvings can be removed; arms or legs can be added or removed; the piece can be made larger or smaller; and the backs of chairs and sofas can be redesigned or replaced. When you take an old piece to a furniture pro to be redesigned, you can achieve pretty much whatever effect you like.
A reupholstery job has saved many a damaged leather sofa that would otherwise have had to be scrapped, and restored many dining and living room chairs. If an old or damaged piece of furniture has been in your family for generations, it would be a shame to let that part of your family's history disappear, when a simple reupholstery job would preserve it for future generations.