Apartments in New York City aren't often known for being large and spacious, and for this reason, there is a growing small sofa trend in the city. While there are plenty of ways that you can find a small sofa to fit into your space, many people are also choosing to customize their existing, large couches to make them workable.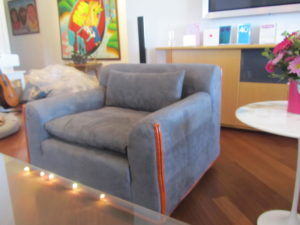 Why You Need a Small Couch in New York City
If you are moving into a new Manhattan apartment, there is one rule that you can be sure to live by – the bigger your couch is, the more cramped your living room will feel. A huge couch situated in a small room is going to leave you with very little living space. If your couch crowds out your end table or pushes into a media console or coffee table, it is clearly too big and needs to be altered. If you are serious about creating a beautiful home, you'll need to be prepared to give up the luxury of sprawling out on a large sofa in front of TV, but there are a variety of great options for small sofas in NYC that you can choose instead.
Finding a Small Sofa
There are a variety of ways to find a small sofa in the city for your new space, even if you are on a budget. You can find sofas online using options like Craigslist or eBay to find small, used pieces, potentially from New York City apartment residents that are moving and don't want to take their furniture along with them. This is a great way to find a bargain, and even if you find a good deal, but the sofa isn't in the best of shape, you should consider the possibilities. Furniture reupholstery and repair services could give you the small sofa of your dreams at only a fraction of the cost of buying something that is brand new.
Redesigning Your Old Sofa
Fortunately, if you are moving into a smaller space, but have a large sofa, you don't have to start furniture shopping. A more affordable option for finding a small sofa for your new space is to have a furniture surgeon redesign your existing pieces so that they can fit into your new home. Furniture repair companies like Dr. Sofa can actually create a custom sofa from your original piece, removing some of the components and reassembling your furniture so that it fits into the new space.
In many cases, this can be done during the moving process. It is often recommended that you invest in a moving company to get your furniture pieces to your new place without damage, as a professional furniture mover can disassemble your piece so that it can be safely relocated. Additionally, taking your furniture in pieces to your new apartment can make it easier to get it into your apartment via narrow doorways, cramped halls, and other tight spaces. Once your sofa arrives at your new apartment, it can be altered to best fit the space and the reassembled in the best possible location.