A sofa is a substantial investment in your home's style and comfort. If you buy yours new, you can expect to shell out anywhere from a few hundred to a few thousand dollars. It only makes sense to take good care of such a costly piece of furniture. These handy hacks will help you protect your sofa from damage during a move and from everyday staining and damage. If your sofa has sustained minor damage, there are some simple ways to repair it yourself. Take a look at these simple, but important ways to ensure that you enjoy your sofa for many years to come.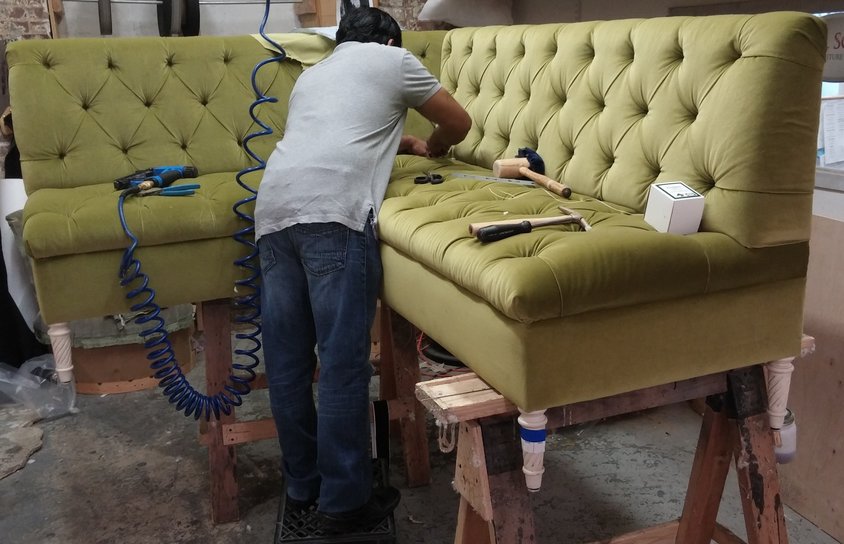 Protect Your Sofa During a Move
If you want (or need) to move your own furniture, there are some things you can do to ensure that your sofa arrives at its new destination safe and sound. Be sure to wrap all parts of your sofa in old blankets, or packing foam, prior to moving it. Don't use shrink wrap on your sofa, as it can cause damage. You should also measure your sofa's width, length and depth, and compare those measurements to the width of any doors, elevators, stairways and halls through which it will have to pass. If your sofa is too large to fit into your new space, you don't necessarily have to abandon it. There are furniture movers in NYC who will be happy to move your sofa for you. They can disassemble furniture, move the pieces to your new home, and expertly reassemble it wherever you direct.
Prevent Everyday Damage
It's only common sense to keep children and pets away from an expensive sofa, if you possibly can. Pets, especially, can destroy a sofa overnight. If you have pets, you can prevent sofa damage by keeping them out of the living room altogether; by keeping their nails and claws capped; and by providing other things for them to chew or claw. A sofa should not be placed in direct sunlight, as it may cause the upholstery to fade or dry out. You can also protect sofa upholstery by having it cleaned regularly, to prevent buildup of dust and dirt, and periodically treated with spill-resistant commercial treatments. These stain resistant treatments last longer than spray can treatments, and can protect your sofa from spills for years.
Minor Sofa Repair
If these preventative measures aren't enough to ward off the occasional scratch or stain to your sofa, there are some easy fixes you can perform yourself. A minor scratch to a wooden sofa leg can sometimes be blended in by rubbing a nutmeat into the scratch – walnuts, almonds or pecans will do. You can also match the color with a crayon, eyebrow pencil, or shoe polish. Go lightly at first, and reapply color as needed. A scratch to a leather sofa can sometimes be blended in with leather oil or conditioner, but be sure to test on an inconspicuous area before any treatments.
If your sofa has damage that cannot be repaired at home – for example, if you have to reupholster a leather couch – you can often have your sofa reupholstered for less than you would pay to buy a replacement new.