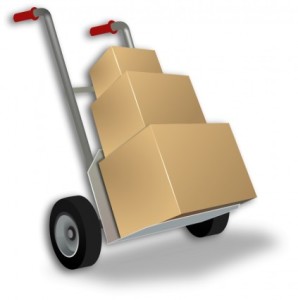 One of the hardest and most stressful parts of moving into a new place is trying to coordinate your move-out and move-in dates so they mesh. Sometimes, no matter how hard you try, you just cannot get your move-in date and your move-out date to work for you, which leaves you out on the street with all your stuff. Rather than have a meltdown, have a plan of attack to keep your stuff safe and not stacked in your friend's studio apartment for three weeks.
You actually have several options to consider when it comes to storing your stuff for the short or long term. Furniture moving solutions often come with storage options. Are you renting a truck to move your stuff? Ask about the storage space they offer, and see if you can get a few days free for paying for your truck. If you need longer, some companies will offer a discount. You just need to remember to ask for it.
The upside of these storage spaces is that they're the right size to fit all your stuff because the storage they provide coincides with the size of the truck you rented. That's one less thing to stress about.
The downside is that more often than not, the storage facility can be miles away from where your new place is. Also, if you have more than a few days between move-out and move-in, you may need to pay to re-rent the truck when it comes time to haul your stuff out of storage. Those costs can really add up.
If you aren't planning to rent a moving truck, consider investing in standing storage from a third party. They're often cheaper than the storage you can get through a moving company (if you don't rent a truck from them, they usually upcharge the storage) and you can compare prices and negotiate. Another bonus is that you can rent storage from a company that is closest to your apartment, so you don't have to drive across town 50 times with your furniture.
A third option to consider is furniture packing and crating. Rather than rent a large storage space for all your things, you pack and crate your furniture and essentially have it shipped to your new apartment on the day you move in. Your smaller items like clothes and décor can be stacked in the corner of a friend's house, saving you money, and your furniture will arrive right when you need it to.
These companies usually disassemble your furniture to pack it, which can seem really traumatic, but don't worry. The companies that offer these services have professionals working for them that will reassemble your furniture and make it good as new on move-in day, so you don't have to do it yourself.
Moving day is very stressful, plan ahead and don't add excess stress when your move-out and move-in dates aren't jiving. Comparing services ahead of time can result in a smooth transition when the time comes.