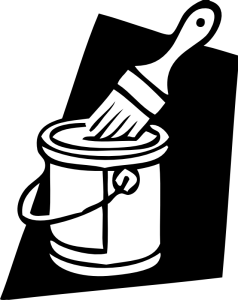 Painting a room as a DIY project can be an orderly, straightforward task, or it can be a sloppy, mess-filled nightmare that leaves you with more work than when you started. The difference is proper planning. If you take care to protect the things that shouldn't be painted, and if you prepare the things that should, the result will be a tidy, professional room that cleans up neatly and looks great.Here are a few tips for painting a room to help you achieve a beautiful result:
Have a clear plan.
Before you start, be sure to get a clear picture of how the room will look with your chosen color. In order to be sure, get a sample of the actual mixed paint and take it home to see how it's going to work in your space. You should also assemble all the tools and supplies you need well in advance. That includes brushes, rollers, paint trays, measuring tape, step ladders, plastic tarps or drop cloths, painter's tape, gloves, a smock, head covering, and goggles. If you plan to use any special effects, such as stenciling or sponge effects, you should have these items on hand, as well.
Clean.
Before you can paint a wall, you must clean and prepare the surface. Dust the walls with a soft cloth or paper towel, and flatten out any bumps or cracks with a paint scraper.
Cover and remove.
Prior to painting, it's wise to remove all the room furniture that you can, especially if the furniture is expensive or irreplaceable. For example, family antiques should be stored at a safe location where they won't risk damage. You can cover the furniture with drop cloths, but if you want to be sure that no one stains or bumps the furniture during the painting process, you can also arrange for furniture professionals to disassemble furniture that's in the way.
Prepare for painting.
The next step is to cover the floor with a plastic tarp or some other durable covering, and to lay painter's tape down around light fixtures, switches, baseboards, windows and doors. When the room is prepared, you can start readying the walls with primer.
Paint.
Give the primer about 24 hours to dry before attempting to paint the walls. You should apply at least two coats, however, dark colors may require more than two.
What if there's an accident?
Say that you couldn't move a heavy piece of furniture, or that you opted to cover your sofa with a drop cloth and it got spattered or torn. You don't necessarily have to lose that piece of furniture. Instead, you can have a furniture pro conduct a thorough fabric cleaning on cloth upholstery, and if your piece was made of leather or vinyl, you can even have it professionally reupholstered.
These are the basic tips for painting a room in your house, and we hope they will help you get started. If you prepare for your paint job, and proceed systematically through these simple steps, your freshly painted room should look just as you intended. Keep in mind that there a plenty of furniture movers in NYC who can move your valuable furniture to a safer place, and then return and reassemble it, once the room is painted and dry. Don't let another week pass without painting your space the color you have been dreaming of, simply prepare and take action!