Different Perspectives on Exterior and Interior Design
Estimating the importance of architectural creation and its interior design is very subjective. Some people look at the Eiffel Tower and see nothing but a hulking heap of metal weighing more than 7 thousand tons. Others swoon over the breath-taking landmark of the most romantic city in the world and ponder on the architectural prowess needed to erect this gigantic cultural monument.
Now, the former group of people might use the same method of thinking when they hear about the New York-based company, WeWork. They would simply reduce tremendous designer thought to plain numbers:
More than 1 million square meters of glass
70 thousand square meters of carpet
800 hundred square meters of exquisite white oak flooring
4.5 million kilograms of aluminum that have gone into making their one-a-kind workspaces.
However, the vast majority would, as many of the WeWork members had upon their first visit, be absolutely astonished by how designers though managed to rearrange the materials into coherent units. The space that has a lasting mark on those who enter, and make one feels "at home" – as much as a shared workspace should feel like one.
WeWork Stands out from look-alike offices
The question which presents itself when WeWork is concerned is why they put so much effort and creativity into designing their shared workspaces? Many competitors opt for the simple industrial design, minimally covering the concrete columns and wall, going for the raw look and uncovered beams and pipes. Minimal investment, huge profit – right?
WeWork would not agree. When the company was in its initial stages at the beginning of this decade, not much could have been predicted about its future and humongous success – but one thing was constant.
The spaces they design and that their members share must be different, enjoyable and community-focused.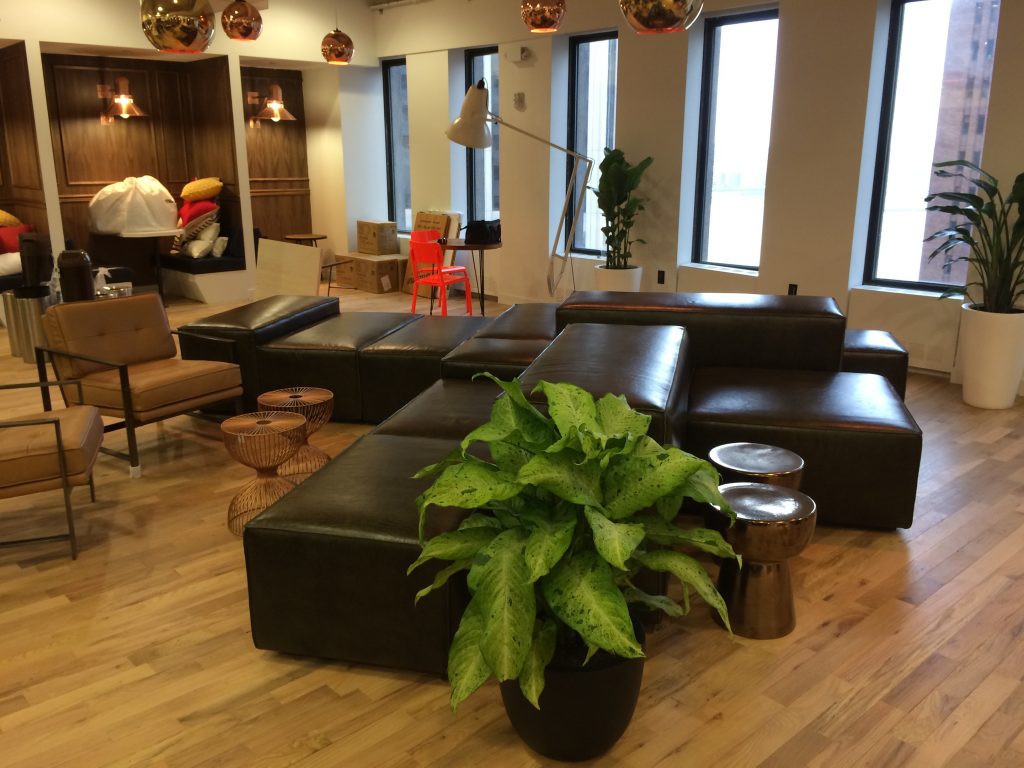 Make WeWork Office space Feel like Home
Above all, WeWork wanted to depart from the cubicle design for offices and workspaces. They wanted to incorporate a feel that people usually experience at home. The comfort and enjoyment that comes from enjoying a safe and warm environment, conducive to work, an environment that leads to increased productivity and results.
However, every person's idea of a home might differ slightly. In building their perfect shared workspace, WeWork employs designers who focus on what their members think and how they feel about the workspace. There is one thing that has not changed from the company's infancy:
The innovation through communication with those who spend time in these work environments.

as Devin Vermeulen, WeWork's Creative director mentioned.
Integration of Changes at WeWork
Another process in the interior design planning of WeWork's spaces is the continuous integration of small changes and tweaks. It is possible to improve variety of things in the planning stages. Of course, the team will make even more enhancements after the workspace is actually created.
Design project managers working at WeWork start long before the buildings are leased or physically available.
We take every bit into consideration to create an exclusive, never-before-seen space: from wall murals, wallpapers, and carpets- to the minute details such as which pillowcases should be used.
Their work is not done once the first members walk into their exceptional workspace. The designers are in constant communication with the clients and strive towards the continual improvement of their offices.
"Furnishing" a Solution with Interior Design
Quite naturally, a large portion of the look and feel of the co-working spaces depends on the furniture the company chooses.
However, there is no common formula for the type or style of furniture that is featured in the workspaces in more than 280 different locations.
What WeWork strives towards is:
Going green
Leaving original floors on certain locations
Picking refurbished or recycled furniture.
At other times, the choice of furniture pieces depends on the larger picture, the overall theme of the workspace. As the community members often take part in the design of the working environment, cultural and regional details are often incorporated. At times very colorful and vibrant chairs might take the prominent space in the interior design of the office space. At other- vintage sofas or sleek, futuristic desks with a slight sheen.
The bottom line is, WeWork tries to achieve a lightweight design with:
Innovative setup
Cozy vibe
Lush surrounding
It does this through the use of open spaces with clean and comfortable couches, sofas and chairs that have a natural flow and direct people towards each other.
Communication in the first place, as always.
Long tables dominate conference spaces and allow for a large number of people to co-operate during crucial moments.
Changes in Concept influence Design
Putting all of this aside, WeWork is more than just a co-working space company. Their goal is not to lease a building, spruce up the offices, rent them out and forget about it.
Following the vision of communities growing together, WeWork encourages its members to:
Intermingle
Network
Create new connections
Work out partnership
Each WeWork space also has its own "community manager". He is there to take care of the members, make them feel satisfied, and facilitate their own development.
Nurturing Successful Businesses
All in all, WeWork has been helping startup companies to get their big break. It has been offering long-lasting co-operation to the creators and startups. Unprecedented access to an outstanding educational platform is one of the benefits you gain from WeWork. It includes many courses on securing funding and ensuring the mutual suitability between the product and the market.
They also offer a mentorship program in which they share their own experience and knowledge with those who are at the very first steps of their careers. WeWork Labs also offer global mobility with an opportunity to connect to others who work in the same field in any part of the world where the Labs are present.
In India, WeWork helps startups by allowing them to pass one of the biggest obstacles – real estate problems. And offers a variety of tools to enhance collaboration, rapid growth and access to emerging talents.
In 2018, WeWork gave $2 million, 1 million each to the winners of the Creator Awards for the entrepreneurs with global reach and humanitarian spirit.
In their own words – WE is larger than ME.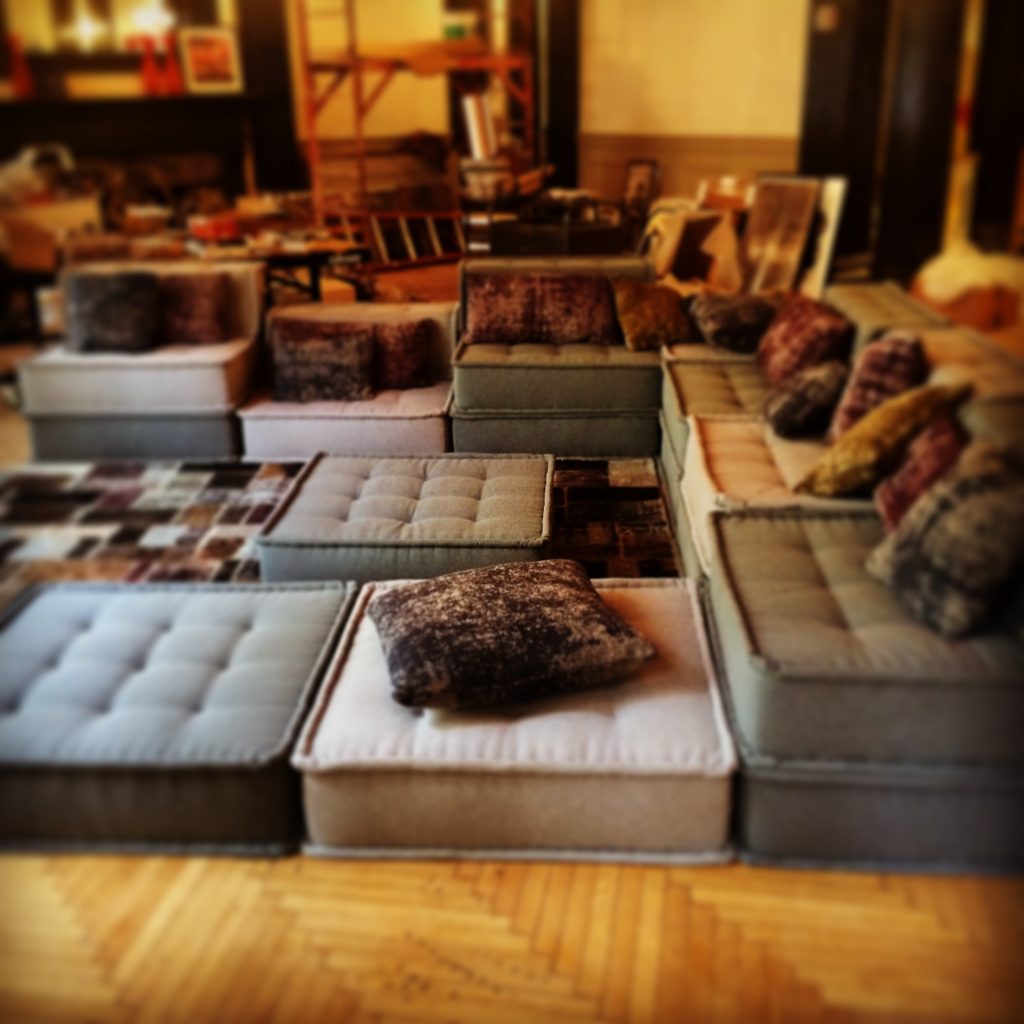 Turning Plans to Reality
It is no wonder that all the work that the team plans to perform at WeWork often exceeds what its permanent employees can handle. WeWork has been working with hundreds of designers and architects on a freelance basis, joining their forces to work towards the perfect designs that suit the needs and functionality of its clients to the smallest detail.
Among many additional partners of WeWork on these tasks is Dr. Sofa, a company that has been working with them since 2009. Initially, their cooperation was based on fabricating Phone Booth cushions. Dr.Sofa should bear in mind WeWork installed more than 12,000 phone booths in its workspaces this was definitely no small feat.
Then, their cooperation expanded, and Dr. Sofa and its certified technicians started working with WeWork's designers to make the vision of tucked-in, comfortable and home-like arrangements a reality, custom-furnishing all of WeWork spaces and offices throughout the USA territory.
Much of the comfort and unique warmth that WeWork's employees now enjoy is owed to the custom made, large and cozy sofas that Dr. Sofa made, transported and fit into their facilities. Anybody who ever tried to move a large piece of furniture knows this is quite a daunting feat. This is precisely why Dr. Sofa and its engineering team cooperated closely with WeWork designers on the fabrication process. Together they work out the minuscule details and find just the right fit and designs.
Their vast experience and expertise in custom-made specially requested furniture spaces, building lobbies, and store showrooms definitely came in handy in the project with WeWork. This cooperation was rather successful and has greatly contributed to the unforgettable feel of WeWork's workspaces.
Author : Aleksandra Stojanović