Do you have a piece of leather furniture that needs to be restored? If so, your best option is to take the piece to a leather restorer like Dr. Sofa in order to ensure the best possible results and that the job is done right. Taking your piece into a professional leather restorer can help to make your favorite old and vintage leather furniture look as good as new while preserving its character and vintage qualities, and these professionals offer a variety of important services.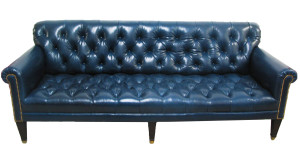 Leather Protection
One of the best ways to protect your leather furniture and your investment is to keep your piece clean. A leather restorer can help to remove stains that can accumulate from years of wear and tear, including pets, body oils, children, food, and beverages. Staining your leather will not only discolor the furniture, but it can also increase the breakdown of the material by changing the pH. Taking your furniture to a leather restorer can help to remove existing stains to improve the appearance of your piece, and it can also be beneficial in the prevention against future problems.
Leather Refurbishing
You likely spent a lot of money on your prized leather furniture, so it can be frustrating when it starts to look worn out. Leather can have a long life cycle, and even if the surface quality appears faded, scratched, worn, or stained, beneath the soiled surface is a perfectly good piece of leather than simply needs some TLC. Fortunately, a leather restorer can refurbish your piece so that the leather both looks and feels like new again. A professional restorer can remove the original finish, condition the bare leather, and repair the damages before adding a new coat of color and a clear, wear-resistant top coating.
Repairs to Damaged Furniture
Leather is extremely durable, but despite its strong qualities, it is still susceptible to damage. If your leather sofa, arm chair, or love seat has been damaged, don't try and make a DIY project out of it. While Googling "how to remove scratch from leather" certainly might give you some advice, repairing leather is a delicate procedure that is best left in the hands of a professional, and trying to do the job on your own might actually cause even more damage. A leather restorer can help to patch and repairs cuts, tears, and scratches, ensuring that the colors of the patch and the original piece match precisely.
Furniture Customization
Do you have an idea for a furniture piece that you'd like to add to your space, but you can't find exactly what you want? Maybe you should consider having your older items customized. A leather restorer can help to change your existing pieces so that they can become a beautiful new piece that will fit with your updated home décor. This is generally a more affordable alternative to buying a new piece, and it is one of the only ways that you can ensure that you're getting exactly what you want.