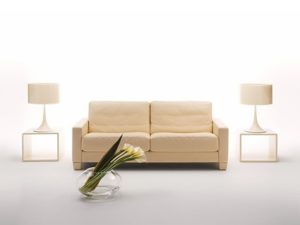 Slipcovers are ideal to protect your furniture from dust if you'll be away from home for a while. They can be a last-minute lifesaver if you're expecting a visit from a friend (and her lap dog) or family members with small children. Slipcovers can be a good way to protect furniture, but don't allow a convenient temporary fix to become permanent. Know when not to slipcover!
For example, slipcovers were never meant to be a cover-up for damaged or broken furniture. If you deal with a ripped cushion or wobbly chair arm by covering them up, the damage tends to get worse, which in turn will increase your ultimate bill to repair/replace the piece. A beautiful slipcover may make your torn sofa look good in the short run. But throwing a slipcover over a damaged piece of furniture may produce a lumpy/bumpy feel to your couch or chair, advertising the fact that your furniture is damaged and that you just covered it up instead of making repairs. Awkward, and not the sort of impression you want to make on your guests!
If you leave the slipcover on a damaged piece for long enough, it's even possible that the slipcover may hide a loose nail or a leg that's becoming loose. Don't risk embarrassment or even possible injury — there are plenty of upholstery repair professionals in NYC!
If your grandmother ever encased her furniture in plastic slipcovers, you know the eerie feeling of having walked into a wax museum instead of a living room. When you sat down on the sofa, it was hard and slick and uncomfortable. You didn't "scoot over" on grandma's plastic sofa, because if you did, your tush squeaked. And if you were wearing shorts, leaving could be downright painful. There was that awful peeling sound as you stood up and broke the heat seal between your thighs and the plastic. And for a parting gift, those plastic slipcovers awarded you two big red blobs on the back of your legs that lingered for a good 30 minutes. Don't do this to your family and friends. It isn't necessary. Even if someone does spill on your sofa, there are plenty of fabric cleaning services around town.
After all — what's the point of having beautiful, artisanal furniture if you cover up your pieces with a solid color casing, or worse, embalm them in plastic? It's like not having the piece at all. It's true that accidents happen, but don't let the fear of a mishap deprive your visitors (and you!) of your furniture. Place your special pieces in an "adults only" area of the house and establish sensible house rules about children, pets, and food and drink.