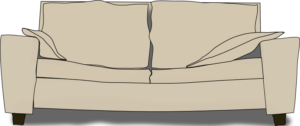 It would be nice if our upholstered furniture came with simple "How to Clean" labels, like a shirt or a sweater — especially since any cleaning has to happen in place, unless the chair or sofa has removable slipcovers. You will likely be able to carry out any ordinary maintenance, but there are quite a few situations where professional furniture cleaning is advisable. Living in the greater New York City area means you'll easily be able to find a qualified furniture repair and cleaning service nearby. The usual routine for keeping furniture tidy typically involves regular vacuuming, which is generally sufficient. However, non-routine thingshappen! Kids and pets have accidents, food or drink gets spilled, somebody's marker or pen leaks, etc. Then there's the inevitable accumulation of ground-in dust; while it may not be obvious on the surface, it gets into the structure of the leather , and isn't touched by regular vacuuming.
Newer furniture should have a label in an inconspicuous place that includes a cleaning code for that particular piece of furniture. "W" means water-based cleaning is okay, "S" is for dry-cleaning solvent methods only, "W/S" allows for either to be used, and "X" stands for "vacuum only". Look for the code; you don't want your attempts at furniture cleaning to turn into a furniture repair situation! That said, what are some scenarios and signs that tell you it's time to call in a professional?
Bad stains. It might be ink, wine, ground-in tobacco ash, or stains such as blood or urine. You can rent a steamer or get a dry-cleaning solvent kit, and it may work. If it doesn't, letting it sit will only allow it to "settle in" and become more intractable.
Bad odors. Obvious ones that come to mind are tobacco, pet smells, and moldy odors. Warm, humid weather will often make odors trapped in furnishings "spring to life" as bacteria become more active. Even when smells aren't obvious, you may be able to detect them by putting your nose to the upholstery and taking a sniff. If you've tried eradicating them and failed, and the smell has gotten down into the filling or batting, you need help.
Ground in dust. This may not be visible, but it will still be present. We live in a gritty world and unless your home is hermetically sealed, air-born dust, pollen, grit, and fumes come in the windows and ventilation systems. In addition, humans and animals all constantly shed tiny particles – skin cells, bits of hair. Although all this is unavoidable, routine home cleaning can't properly deal with it. These invisible elements eventually build up, degrading the structure of the upholstery fabric.
Health concerns. If you or someone in your household suffers from allergies or other health problems, seek the advice of one of the many experienced furniture cleaning services in the NYC area. Thorough professional cleaning of upholstered furniture and other furnishings will help minimize the effects of bacteria and allergens in your home.