Spring is a time to let the outdoors in, both literally and figuratively. It's a time for expressing your light, playful side in home décor – a time for natural themes, pastel colors and lots of freshening up. If you're looking for some whimsical home décor ideas for spring, take a look at these suggestions. They will give you some fun and attractive ideas to make your spring redecorating faster, and more beautiful.
Spring Cleaning Before Redecoration
The first step for any spring redecoration is, of course, a thorough spring cleaning. You'll want to go through your house, removing the items left over from cold weather to make room for your spring things. It's also a good idea to use this sweep as an opportunity to clean and declutter your home. This will make it look both sparkling, and lighter and more airy, as is appropriate for this season. Your spring cleaning should also include an inspection of your furniture. Check your pieces for arms or legs that might need repair, or scratches, stains or tears in the upholstery. You may need to schedule a professional repair or fabric cleaning.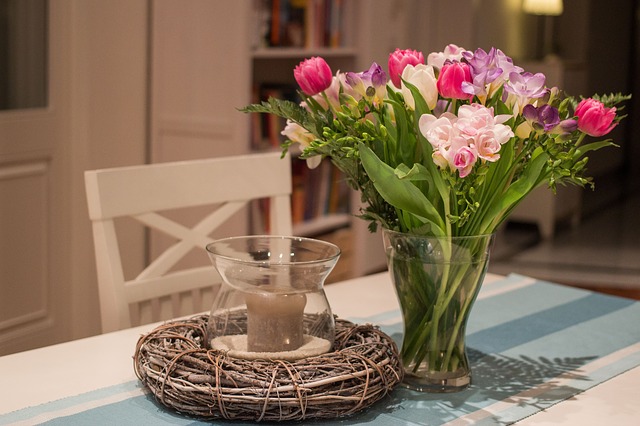 Bring the Outdoors In
Once your house is spotless, decluttered and airy, it's time to bring the outdoors in. Beautiful spring weather is always a temptation to open the windows. Why not give in? You might also go a step further by removing your drapes and window treatments altogether to make the most of the spring sunshine. If you don't want to strip away all your window treatments, consider cotton lace curtains, or curtains in a bright spring pattern, like a rosebud or toile print.
Go Green With Potted Plants or Flowers
Greenery, both live and faux, is a fast, easy way to freshen your home for spring. Make potted plants or flowers the center of attention on a dining room table or mantelpiece. Nothing says spring like a bowl full of daffodils or tulips. But if you're not into flowers, or if your décor is more modern, you can go with something as simple as a rectangular pot full of lawn grass. Dried or silk wreaths and garlands can also be very pretty for spring – hung on the front door, over a mantelpiece, or draped over door and window frames.
Ambience for a Soothing Environment
Sometimes it's the smaller design touches that make the most impact. When you first step into a room, the soft trickling of a tabletop fountain, or the tinkling of chimes, can have an instantaneous soothing effect. Cheerful panpipe or classical guitar music can be as much a part of your interior design as, say, the cheerful colored bottles in the window, or the braided rugs. If you're feeling ambitious then try reading up on Feng Shui. Don't forget the intangibles when decorating your home for spring.
Reupholster That Old Furniture
A good furniture reupholstery job can do more for a room than almost anything else. If you're tired of the dark, heavy plaid on your lounger, or the boring beige corduroy sofa, you can have your pieces reupholstered for spring in a pastel floral print, cheerful gingham, or elegant toile. If you want a different look altogether, you don't have to spend thousands on all-new furniture: a furniture pro can create custom furniture from your old pieces, to your specifications.