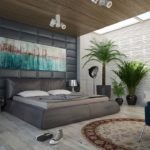 Nothing is quite as clean and chic as modern furniture. Simple lines, solid colors, and an uncluttered design make modern décor both comfortable and elegant. This look can be show-stopping in the bedroom, especially if the simplicity of a modern design look is paired with a great view, a striking piece of artwork, or a soothing mood piece, such as an indoor fountain or a wind chime sculpture. You might be surprised how just one piece of custom furniture, or even a simple makeover of old pieces, can create a modern look in your bedroom. Follow these simple hints to achieve a sleek modern mood in your home.
Simplify
A modern look is always simple and uncluttered. If you want a modern look in your bedroom, your first task must be to throw out the knick knacks – or at least, get them out of sight. Your bed should not be covered in pillows or dolls, your bedside table should have a lamp and perhaps a clock, and your artwork should be spare and striking. Your windows should not be covered in frilly curtains – blinds or even a bare window is best, especially if you have a dramatic view. There should be few pieces of furniture apart from your bed – maybe a chair or two, a bedside table, or a wardrobe.
Furniture
Your bed is the centerpiece of your bedroom, and if you want a modern look, it should be simple and elegant. Consider a bed with a simple headboard, or no headboard. A round bed is dramatic and has a decidedly modern look. Solid color bedspreads, especially in dramatic colors such as black, white, brown or red can lend to the sleek mood. Any furniture should have clean, simple lines. You don't need to match your furniture, either – sometimes a piece from another style can add whimsy or drama to a mostly-modern look. An antique piece can often provide a striking counterpoint to a modern bedroom and can be refurbished to look brand new with expert furniture repair.
Lighting
Modern décor often makes use of dramatic lighting to achieve a sophisticated mood in the bedroom. Track or sunken lighting, dramatic uplighting that focuses attention on a striking piece of artwork, or a dramatic modern chandelier can help create a sleek look.
Color
Modern décor often makes uses of dramatic contrasts, such as black and white, but a modern look can also be surprisingly warm. Bright, vibrant colors can create drama and emphasis in a modern bedroom, but vivid colors and busy patterns should be used sparingly to avoid a cluttered or overdone look. Use bright colors in accent pillows, a dramatic piece of art or in an area rug.
A modern bedroom is one that you will feel the space to think in. Simplify and open up your room with just the right color, lighting and furniture!