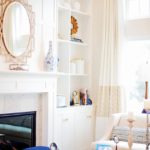 The perfect ottoman can add a touch of elegance to even the most ordinary space. You might think of an ottoman as a throwback to the Victorian era, but while it does boast a highly civilized past, the ottoman has been upgraded. Today's ottomans have sleek designs and chic materials, and can fit into even the most modern décor. If you're thinking about getting an ottoman for your sofa, the following questions will help you determine which one will be the perfect match for your needs.
Mix or match?
Decide if you want your ottoman to emphasize your dominant color or style, or provide a contrast. If you don't want your ottoman to compete with your sofa, or some other dominant feature in your space, you might opt for the same color and material that the sofa has. But sometimes, a pop of color, or an unexpected, contrasting style can add a dash of whimsy or sophistication to a space. Picture a red velvet Victorian ottoman next to a sleek black leather sofa in an ultra-modern apartment. You can sometimes find wonderful antique ottomans at stores or estate sales. A bit of creative furniture reupholstery can produce striking and stylish effects.
What do you need it to do?
Will your ottoman be purely decorative, or do you want it to do double duty as an extra seat, storage unit, or even serve as an additional section that can slide up against the sofa? You can find ottomans that serve all of those functions. Some people buy ottomans as a way to save their sofas from careless family members who put their feet up on the couch. For them, an ottoman is one way to avoid a furniture repair bill! Once you decide what you need your ottoman to do for you, you'll also know what design features and materials it will need to have, as well. If your ottoman will be decorative, you can indulge in delicate or embroidered fabrics. If you need it to be more utilitarian, you can go with vinyl, denim, or leather.
How many do you need?
Sometimes one ottoman will do just fine; other spaces might benefit from several. Ottomans can serve as emergency seating in a pinch – if your party guests bring their friends along, a few spare ottomans can save the day. If you're decorating a space where chairs might obstruct a wonderful view – such as a high rise apartment with a panoramic view, or an outdoor patio overlooking the pool – a few extra ottomans can provide a little insurance against surprises, without spoiling a glorious prospect when they're not in use.
New or used?
Some modern sofas are sold in sections, and buyers can choose as many or as few as they like to create a custom seating arrangement. This might be the easiest way to buy a new ottoman – it's manufactured to match the other elements of your seating unit, and can be used with them, or separately. It arrives at your home as part of the overall sofa delivery. Other advantages to buying new include a piece that's sturdy and free of defects, and that comes with a warranty.
But don't overlook the advantages of buying used. You can save money, if you buy an ottoman second hand, and sometimes you can pick up beautifully designed pieces this way, as well. A little creative reupholstery from a furniture pro can create amazing results, and often at a fraction of the cost of buying new.
Take the time to clarify what you need your ottoman to achieve, and the space you need it to fill. Once you have your ideal clearly in mind, you're on your way to finding the perfect ottoman.