The entryway of your house does more than function as a portal to your residence. It sets the first impression as to what atmosphere will greet you as soon as you step through the doorway. Surprisingly, a lot of homeowners seem to look past this home design element or neglect it totally. The first impression of a home goes beyond just planning for your living room décor. If you see or feel that your entryway needs a revamp, there are ways to do this. It's the first and last part of your house that visitors will see. Here are some entryway ideas and room décor ideas to help you create a memorable area.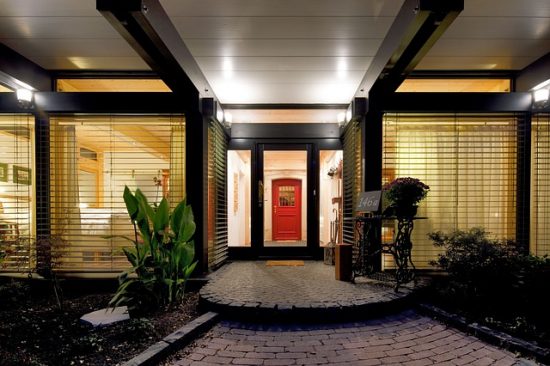 Make use of the vertical space in the entryway.
The use of vertical space does wonders in just about any area in your home, including the entryway. From the outside, small details such as wall lamps and hanging plants are charming additions. If the opulent old-world style appeals to you, try adding a chandelier or an attractive ceiling art to bring the eye upwards. This is one of the home décor ideas that trick the viewer's eye to give an impression of a larger room by working with ceiling space. To achieve an understated elegance, especially to custom doors, try adding moldings to emphasize the door details.
Add a console table and a place to sit.
To add an interesting accent to your entryway, place a console table that complements the interior design of your home. Entryway furniture commands the attention of anyone who enters the home. Decorate this table with symmetrical lamps, an artwork, or a stylish mirror above the table. Aside from its aesthetic appeal, these beautiful entryway tables are very functional. These are commonly used as an extra place for immediate needs such as keys or candles. If space allows, you can add an entryway bench across the table or provide stools that can fit under the table when not in use. Seats are important when you want to rest for a while to take off your shoes if this functions as your mudroom before going into the main house.
Good Entryway Lighting
Lighting helps set the tone for your room design. Excellent entryway ideas always come with well-planned lighting. Choose lighting fixtures that will complement the living room décor since this is often the next area following the entryway. Decide on the design elements or art pieces in your house decoration that you wish to emphasize. Lighting design does not only pertain to illumination but to maximize the use of light to attain that satisfying overall effect for your home. For smaller spaces, make use of wall or ceiling fixtures. With larger areas, you can enjoy having chandeliers.
Own the space.
Pack in more of your personality into your entryway. If you want your guests to get a glimpse of your unique style, own that space. You may choose to work using a theme that inspired you in one part of your life. Do you love vintage, travel, music, or theater? Show this off through your entryway design. Use an exciting color for your door, flooring, or moldings. Even from the sidewalk, a bright-colored door will always catch anyone's attention. How much more when you or your actual guests come through an interesting portal? They will keep wondering what else awaits them behind that door.